This is an archived article and the information in the article may be outdated. Please look at the time stamp on the story to see when it was last updated.
The unmistakable Toblerone
When someone mentions Toblerone, you immediately envision the iconic shape: a long triangular stick of chocolate packaged in a pale yellow wrapper and emblazoned with bold red print. It's so recognizable that the candy often appears in TV and film, from Joey's well-documented love for the chocolate, honey and almond nougat treat in "Friends" to the 6-foot bar Steve Buscemi's character chooses for the dessert table in Adam Sandler's "The Week Of."
However, due to ​​the Swissness Act, which was approved on Sept. 2, 2015, and came into force on Jan. 1, 2017, Toblerone must change its iconic packaging.
In this article: Toblerone Swiss Milk Chocolate Candy Bars, Toblerone Swiss Chocolate Gift Set and Toblerone Swiss Milk Chocolate Giant Candy Bar.
Why does Toblerone have to change its packaging?
When something is made in Switzerland, there's an implied quality. A service provider or manufacturer doesn't need any special authorization to market their services or products as originating in Switzerland. For example, a phrase such as "Made in Switzerland" can be used freely. However, if a service or product does not originate in Switzerland, there are packaging and advertising restrictions. This is to ensure that if "Switzerland" is on the outside, Switzerland is on the inside as well.
Besides words, any figurative marks that are indications of a Swiss source must also be removed from the packaging. This includes Wilhelm Tell, Helvetia, the Swiss cross, the Matterhorn and other recognizable items.
As Mondelez International has outsourced some of the production to Slovakia to save on costs, by law, Toblerone packaging can no longer feature words, phrases or images that lead consumers to believe the product was manufactured in Switzerland.
What's changing on the Toblerone packaging?
While the new design of the Toblerone packaging has yet to be revealed, there are a few things that have been shared by the company. For example, the "of Switzerland" is being replaced by "established in Switzerland," and the packaging will feature a modernized mountain logo that still references the candy's iconic shape without being specific to the Matterhorn. Additionally, the Swiss flag will be removed from any versions of the packaging on which it currently appears. However, the famous hidden bear, which is a nod to Bern, reportedly will remain.
Best Toblerone bars
Since all this talk of chocolate possibly has you craving some, here are some of the best options Toblerone has to offer. For a little diversity, there are some chocolate truffles from Lindt as well.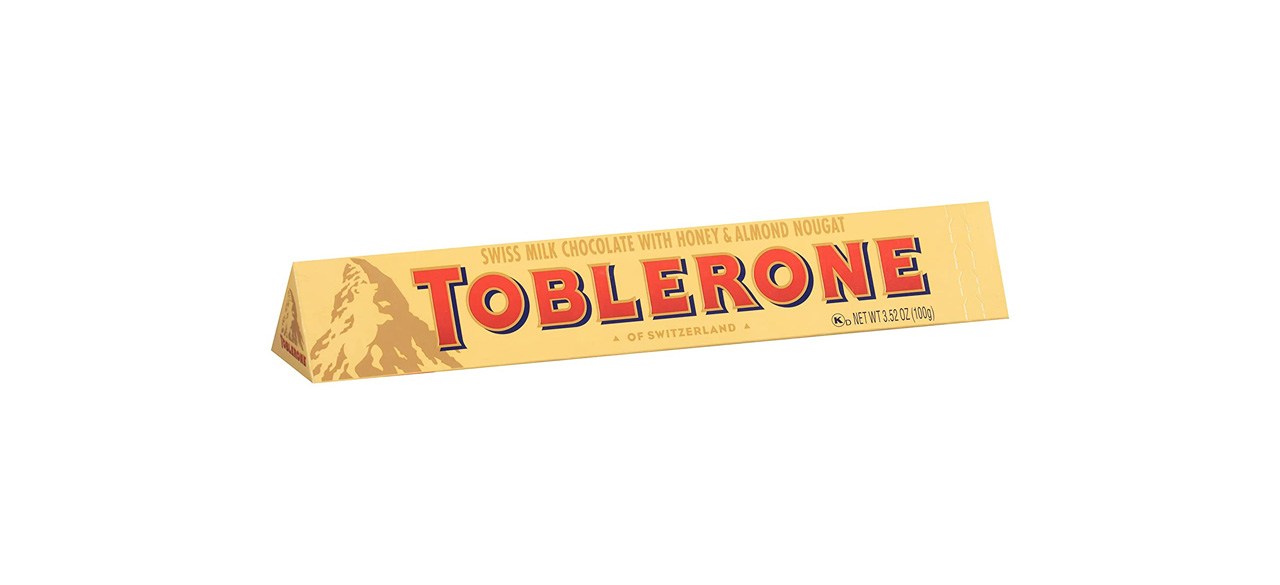 Toblerone Swiss Milk Chocolate Candy Bars
This is the classic Toblerone bar. It's made with milk chocolate and filled with almond and honey nougat. This package contains a dozen 3.52-ounce bars.
Sold by Amazon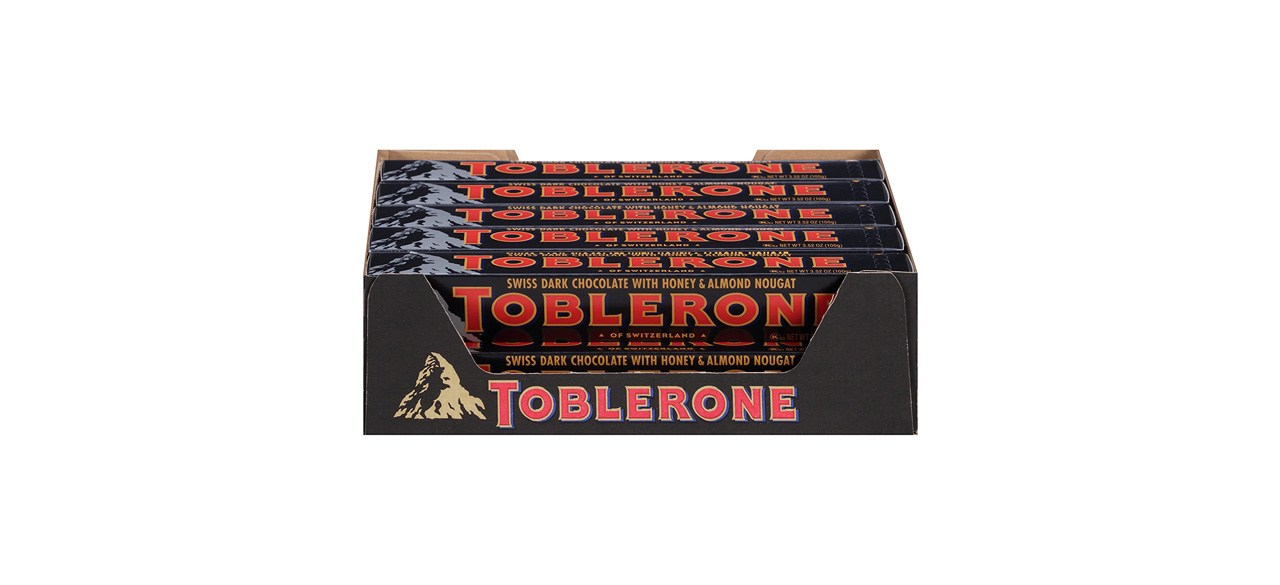 Toblerone Swiss Dark Chocolate Candy Bars
If you prefer your chocolate on the dark side, this offering from Toblerone gives you 20 bars that are 3.52 ounces. They're made with the same almond and honey nougat filling, only they feature dark chocolate instead of milk chocolate.
Sold by Amazon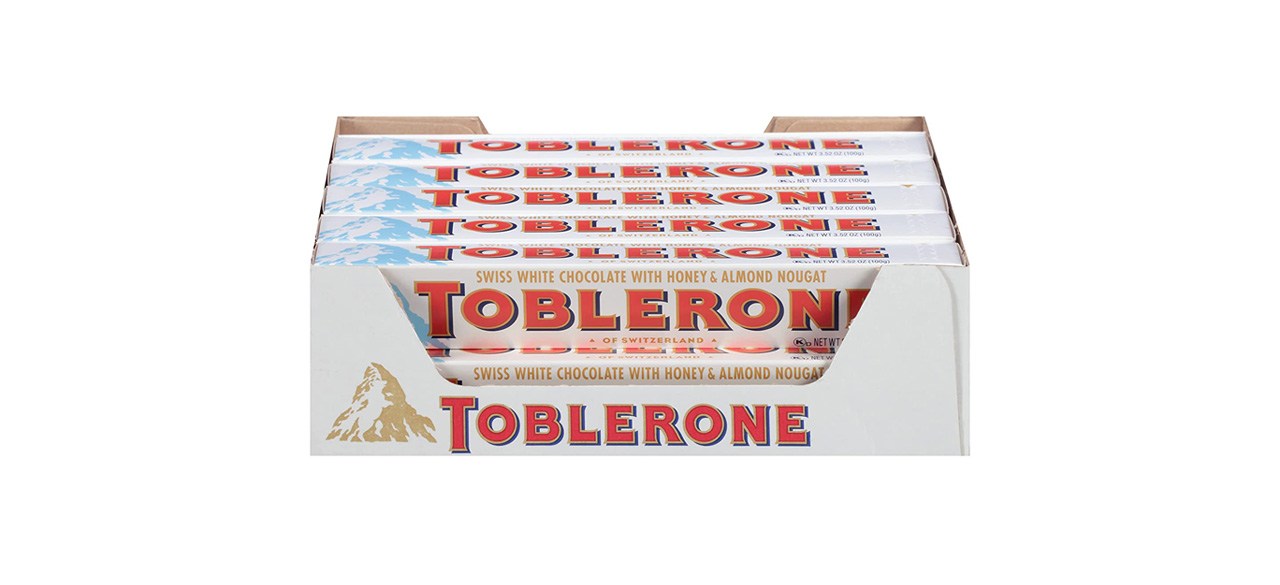 Toblerone Swiss White Chocolate Bars
This third option also has 20 of the 3.52-ounce bars and the trademark almond and honey nougat filling. However, these bars are made using white chocolate.
Sold by Amazon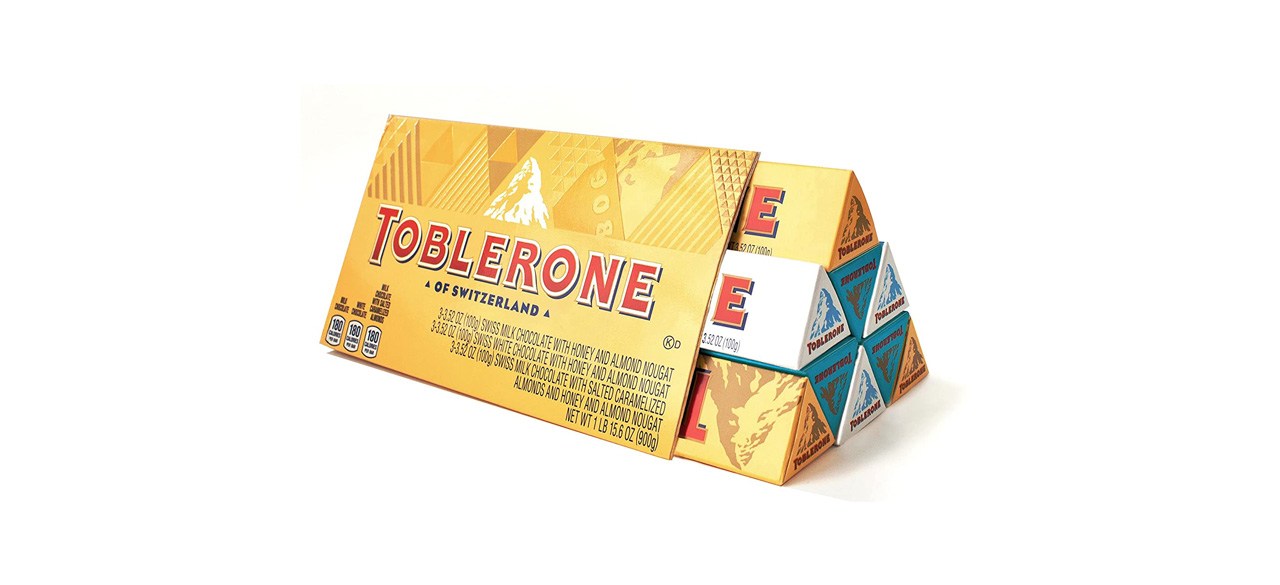 Toblerone Swiss Chocolate Gift Set
If you're having trouble deciding which flavor is your favorite, consider this nine-bar variety pack. It comes with three classic Toblerone bars, three white chocolate Toblerone bars and three Toblerone bars with a salted caramelized almond filling.
Sold by Amazon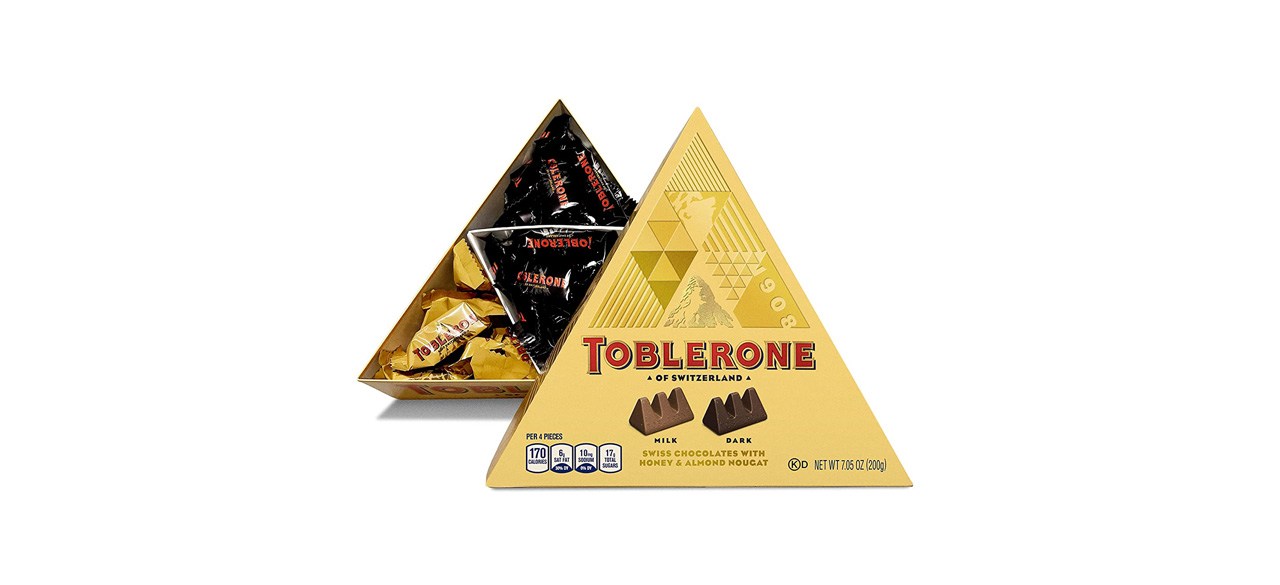 Toblerone Tiny Swiss Chocolate Gift Set
Sometimes, you just need a bite of Tobelerone to satisfy. If that's the case, this gift set of tiny milk chocolate and dark chocolate bars is what you should get.
Sold by Amazon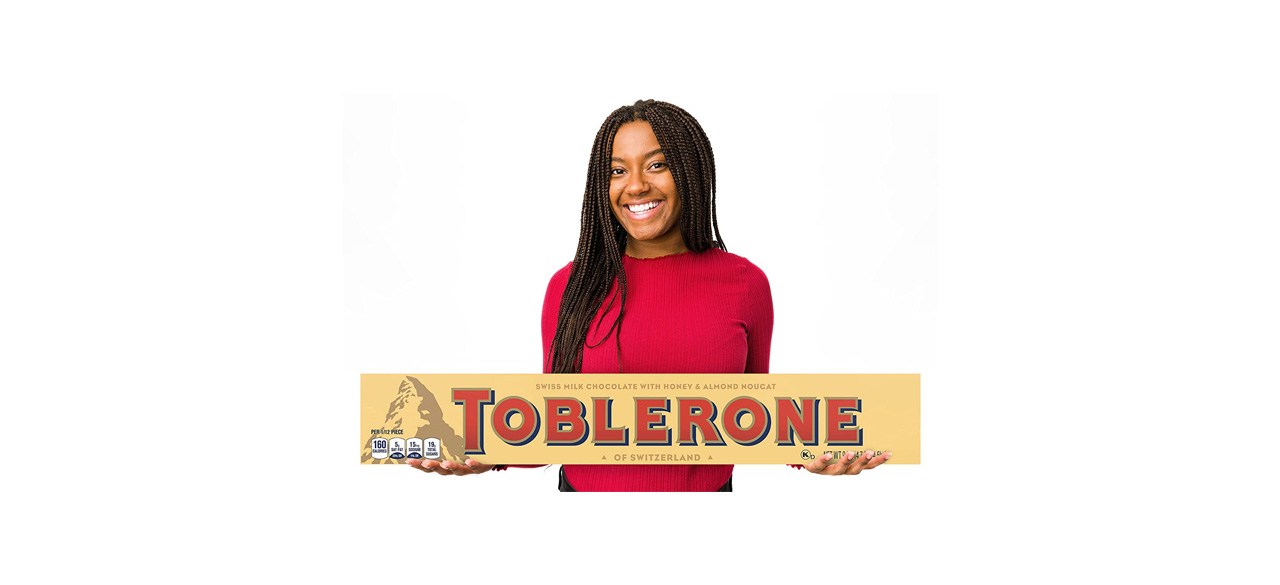 Toblerone Swiss Milk Chocolate Giant Candy Bar
On the other hand, there are people who can never get enough Toblerone. If this is you, the company has a special 9-pound giant-size candy bar that should satisfy — at least for a little bit.
Sold by Amazon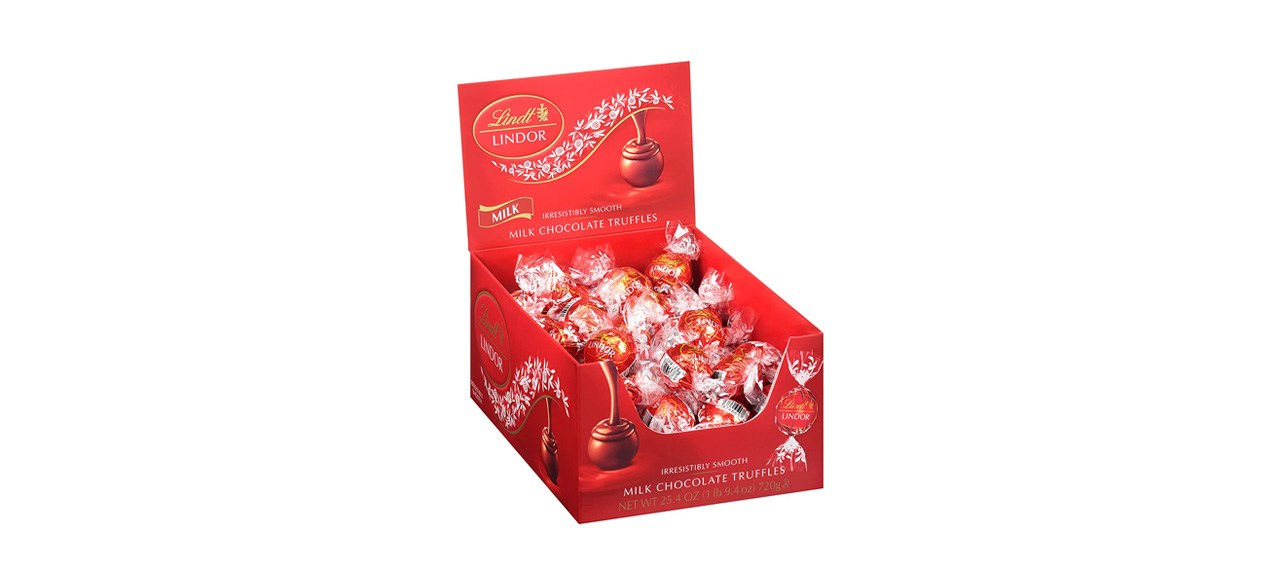 Lindt Lindor Milk Chocolate Truffles
If you like Swiss chocolate but prefer a different type of filling, there are other options. Lindt's chocolate truffles deliver an irresistibly creamy milk chocolate experience.
Sold by Amazon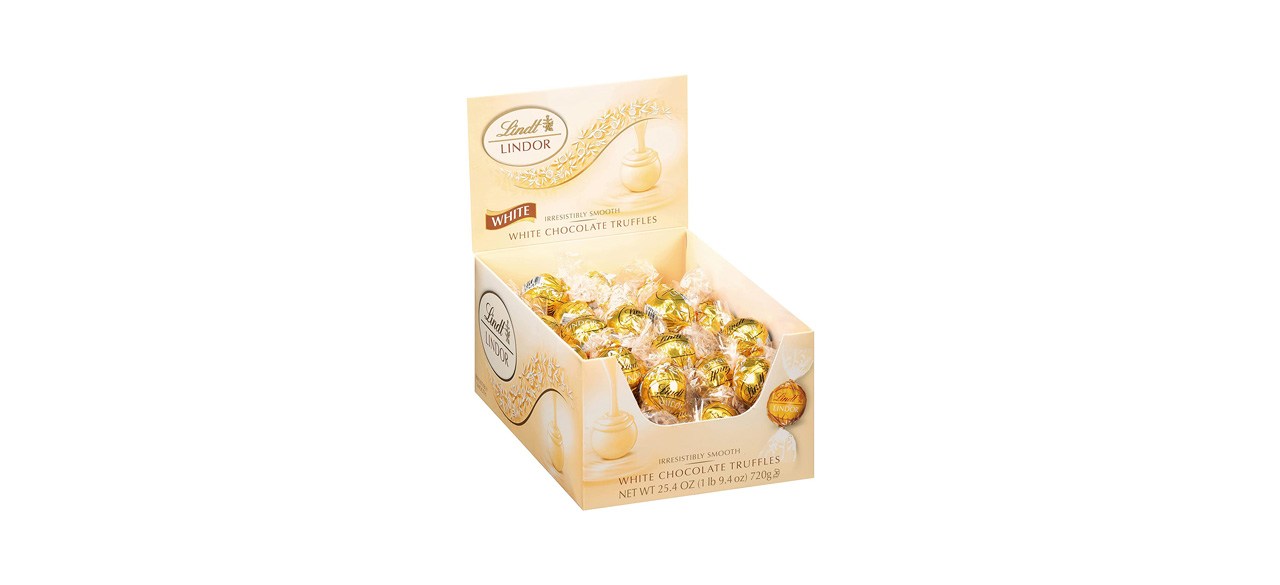 Lindt Lindor White Chocolate Candy Truffles
For those who prefer white chocolate, this offering from Lindt comes with 60 chocolate truffles.
Sold by Amazon
Want to shop the best products at the best prices? Check out Daily Deals from BestReviews.
Sign up here to receive the BestReviews weekly newsletter for useful advice on new products and noteworthy deals.
Allen Foster writes for BestReviews. BestReviews has helped millions of consumers simplify their purchasing decisions, saving them time and money.
BestReviews spends thousands of hours researching, analyzing and testing products to recommend the best picks for most consumers.
Copyright 2023 BestReviews, a Nexstar company. All rights reserved.